Inspirational Marathon Running Quotes!
Everyone needs some motivation at some point in their training. Whether you're in the thick of marathon training or dealing with a setback, motivational quotes are just the spark that some of us need to, as Desi Linden says, "keep showing up".
Below, I found some of my favorite quotes from runners who, not only spent a part of their running careers as top-level professionals but also personal motivators to me – either from meeting them in person or from racing against them at some point in my running career.
---
Meb Keflezighi
"But I also realize that winning doesn't always mean getting first place; it means getting the best out of yourself."
---
Abdi Abdirahman
"I love the marathon … It's a challenge, and if you don't like challenges, something is wrong with your life."
---
Marcus O'Sullivan
"Running is in my blood—the adrenaline flows before the races, the love/hate of butterflies in your stomach."
---
Shalane Flanagan
"If you have the courage to fail, then you have the courage to succeed."
---
Eamonn Coghlan
"It's something in me, deep down, that makes me different in a race."
---
Alan Webb
"Good things happen when you go for it!"
---
Dathan Ritzenhein
"The marathon has so many elements to prepare for. I think that is one reason I always want to come back for more. There is always something to change in your preparation and I am still trying to discover what I am capable of. I guess I just love the challenge."
---
Adam Goucher
"I am not somebody who just likes to run. I am a runner. This is the difference between a pastime and a passion. I like to play golf, but I am not a golfer. I like to cook, but I am not a chef. I don't just like to run. I am a runner. It is a passion. It is part of who I am and is woven into the fabric of my personality, character, and psyche."
---
Bob Kennedy
"One thing about racing is that it hurts. You better accept that from the beginning or you're not going anywhere."
---
Frank Shorter
"You have to forget your last marathon before you try another. Your mind can't know what's coming."
---
Eliud Kipchoge
"Heart can't be measured, only witnessed."
No human is limited pic.twitter.com/atJ2AJ2Y7q

— Eliud Kipchoge (@EliudKipchoge) September 17, 2018
---
Desi Linden
"Some days it just flows and I feel like I'm born to do this, other days it feels like I'm trudging through hell. Every day I make the choice to show up and see what I've got, and to try and be better.
My advice: keep showing up."
---
Steve Prefontaine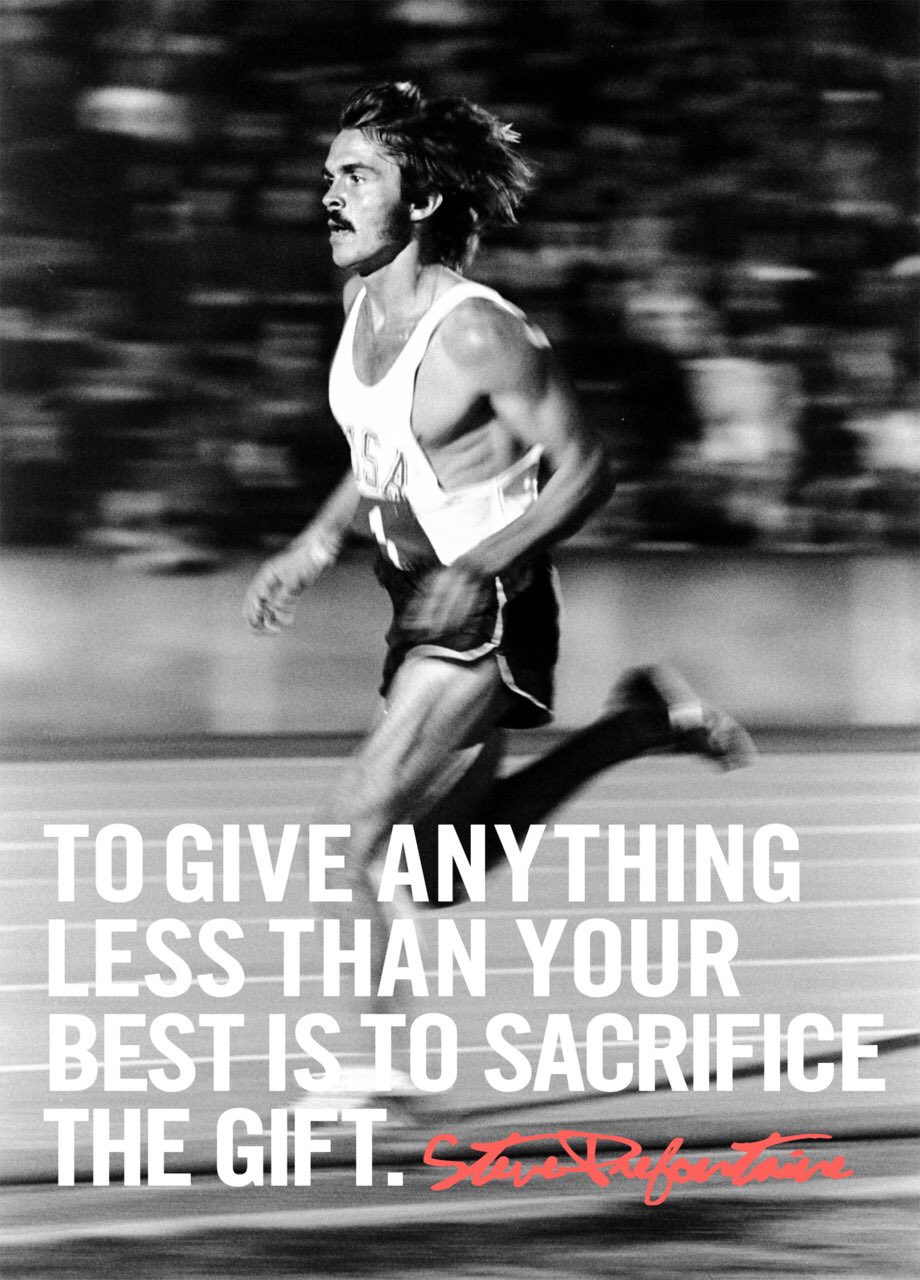 "Over the years, I've given myself a thousand reasons to keep running, but it always comes back to where it started. It comes down to self-satisfaction and a sense of achievement."
---
Sir Roger Bannister
"The human spirit is indomitable. No one can ever say you must not run faster than this or jump higher than that. There will never be a time when the human spirit will not be able to better existing records."
---
However you find motivation, take some of these quotes to your heart. You'll find that when you need to draw on some inspiration, you can use some of these former (or current) professional runners for motivation.
Each of them had their unique perspective on running and you can draw on them for what it is you need in your running.
Do you have a quote by a runner that you always come back to? Share it in the comments.
---
WELCOME TO THE RUNNING COACHES' CORNER!
For coaches: Link up each week to post your favorite running tips and coaching ideas.
For runners: Link up with running successes of your own and gather insight from running coaches!
---
LINK-UP RULES
Join your hosts Running on Happy, Coach Debbie Runs, TrainwithMarc, and Crazy Running Girl each week for the Coaches' Corner linkup!
Your link must be running related. You don't have to be a coach to join but you do have to post something related to running. Unrelated links will be removed.
You must link back to your hosts — it's common courtesy and a lot more fun!
Spread the link-up love by visiting at least two other #running bloggers! Leave a comment and find new blogs to read!
Use hashtags #running, #coachescorner, and #runningcoachescorner to stay in touch and promote your content!
---
NEED FOR A COACH TO HELP YOU REACH YOUR RUNNING GOALS?
I am a USATF Track and Field & Dr. Jack Daniels VDOT O2 certified running coach. I have more than 19 years of experience running and more than 10 years of experience coaching runners. Click for more information!
---
Running Gear I Love